Water levels have been so low the past year that I almost forgot how good Buffalo Creek can look with a little meat on its bones. The recent hard rain had done it good, and although it still wasn't particularly high, it was at least at normal flows. I stripped out some line and tossed the olive Krystal Bugger a few feet out in front of me just to see how it looked in the murky water, and up from the depths shot a huge brown trout. I set the hook and the fight was on.
Maybe it was the cooler temperatures, or maybe the higher water, but the trout had spunk and my reel sang as it hauled ass downstream, and then sang again when it hauled ass upstream. Finally, it fought hard against the far bank, shaking its head like mad, and then the line went limp and came back to me minus one Krystal Bugger and no fish.
"Son of a bitch!" I said. Nobody was there to hear me, but it felt like the right thing to do. I tied on a new fly and fished for about 30 minutes without even a hit.
Back in late April, my friend Greg Wickline (showing off a nice brown trout in this photo) and I fished this same stretch and had what we'd both describe as a banner day. I'm not sure exactly how many we caught, but at least a dozen trout were over 16 inches with a couple substantially larger browns thrown into the mix. They were fat, big-shouldered browns, too, the kind that put a little shake in your voice.
It's possible that I'm getting spoiled – how else can I explain that it took me so long to fish that stretch again? With two kids and limited daycare/babysitting options, when I have a free day to roam, I tend to range wide and explore waters farther from home.
Someone recently asked me, "What's it matter if you're driving 15 minutes or 2 hours to catch trout if they're all stocked fish anyway?"
Knowing this fellow to be a food connoisseur, I asked, "Why would you drive an hour to eat a steak at some fancy joint in Pittsburgh when there's a Texas Roadhouse right here in Butler?"
Yes, that's right. I just compared Buffalo Creek to the Texas Roadhouse. What most non-fishers don't understand is that fly fishing is as much about the place it's done as it is about the fish. Sometimes ambience matters, and sometimes you just want to shove meat down your throat.
But I digress…
When Greg and I fished Buffalo Creek, water levels certainly played a role. The stream was low and clear, and the current in the big pool where we caught most of our fish was almost nonexistent. I used primarily a white/pink Y2K with a fluorescent green Squirmy Wormy dropper. The Squirmy is a great slow water fly because the silicone has so much natural movement in any flow.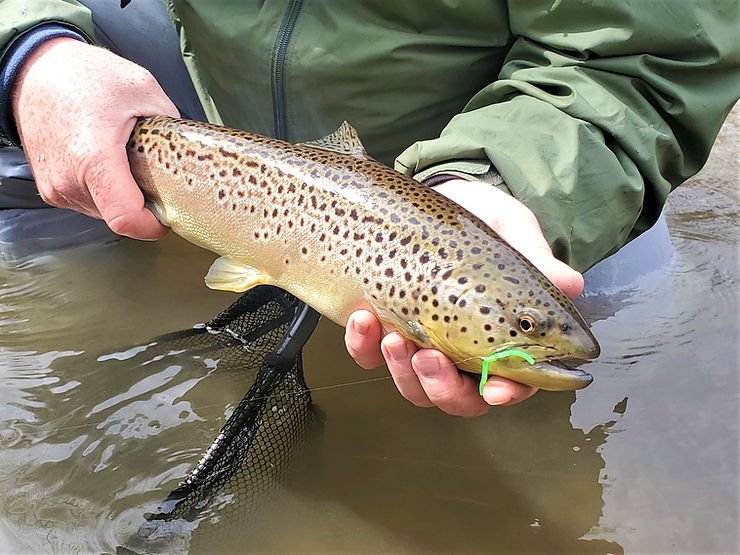 The Squirmy accounted for most of the trout, although I did catch two very large brook trout on the Y2K. I tried various flies at the point position, but every time I swapped out the Y2K, hits dropped off on the Squirmy. When I switched back to the Y2K, catch rates on the Squirmy picked up again, which is why I look at any tandem rig as a single unit rather than how each individual fly produces.
Now, in mid-May, after breaking my line on that huge trout on my first cast, I fished the big pool hard and caught only one fish, a small brookie. Where the heck did all the trout go?
The water was high enough to get a good current moving through the pool, although not a heavy current by any stretch. Compared to the dozens of times I'd fished that pool in the past, I would've described it as "perfect" with the exception that it seemed exceptionally muddy.
I moved downstream to where the pool tailed out and began to form a waist-deep rifle. When the water was low, it wasn't worth fishing, but now, not being able to see the bottom, I gave it a whirl. I caught two right away on the fluorescent green Squirmy Wormy, including one 17-inch brown trout that fought like a champ.
I went 10 minutes without a bump and switched up flies. A few BWOs were coming off and a single trout came up for them, although not with any consistency. I decided to "match the hatch" with a Walt's Worm and a hot pink Squirmy Wormy dropper. This was Buffalo Creek, after all, the Roadhouse of trout streams, and more often than not, the trout just want meat.
The new fly combination made a difference. I landed almost 30 trout in the next three hours.
It could've been the water color. Maybe the hot pink Squirmy was the perfect color for the situation. Or perhaps trout had shied away from the fluorescent green simply because Greg and I had caught so many on the fluorescent green two weeks earlier. Whatever the reason, the trout liked the combination.
Also interesting was that most of the trout had scattered throughout the stretch of riffles instead of congregating in the pool. I've seen this happen a lot in streams with muddy or silty bottoms. They move out of the slow-moving pools when the water is muddy and into faster current where it's easier for them to "breathe" without sediment clogging their gills.
That afternoon, I had that stretch all to myself, a rarity these days, and also a benefit of fishing local waters – you can pick and choose which times to fish. The only thing missing was good company. But even then, it was enough to know that I'd have the joy of sharing the memory of this experience with friends once I got back home.
I'd tell them about the huge brown that broke my line, too, and maybe even vow to return soon to catch that bugger. Another thing I've learned is this: whether fishing familiar waters or adventuring on some new stream, losing a big fish hurts, even if you're going to release it after the fight anyway.
Fly fishing is full of variables, and those variables change from one outing to the next. I guess that's what keeps it interesting. Even when you've spent a lifetime fishing a particular stream, every trip is a new experience, a new lesson, and a new memory that you'll someday look back on and say, "Wow, wasn't that fun!"
Check Out The Flies Mentioned In This Post