The 2019 Ross Reels Animas is a product that is simultaneously functional and beautiful and any angler will be stoked to fish one. After a year of fishing this reel and hanging hundreds and hundreds of trout on it, I cannot be more satisfied with my purchase. The Animas is a good choice as an all-rounder style reel, and as Ross's website professes, has been a guide-favorite for some time.
The frame of this reel is a traditional open design and the large arbor spool is "bell shaped." I use the Animas on my nymphing-specific rod with a straight monofilament leader that is many feet long. Knowing this, my fly line never leaves the reel when fishing and only enters the rod guides if a large fish takes me there.
Reels specifically designed for nymphing include a fully caged frame so that the thinner mono cannot slip between the reel body and spool, a very frustrating event. However, I must say that this has never occurred once after fishing this reel contact nymphing style for hundreds of hours. I believe that this is a result of how well the reel is machined and the tight tolerances between the reel frame and spool.
Many contact nymph fishermen recommend a fully caged reel frame, of which there are a number of high quality options to choose. Nevertheless, I fully endorse the Ross Reels Animas for this style of fishing despite it not being the intention of the design.
Ross Reels are high quality reels that are also aesthetically pleasing.
Beginning with durability, this reel is seemingly bomb proof. It is a fully machined reel made from lightweight, high-grade anodized aluminum. According to Ross, the porting and machining are designed to create a very strong fly fishing reel. The spool is indicative of the spokes on a bicycle wheel which have proven their strength and durability for hundreds of years. I have fallen on my reel a few times, dropped it more than I can remember, banged it off trees, rocks and pickup truck tailgates, had it blown from the roof of my parked Subaru and on one occasion that I am certainly not proud of, tossed it on the bank of the stream as the fish were kicking my ass that day!
Readers might imagine that the reel surely shows bumps, dings and scratches as a result of this abuse. But, in reality, it does not! True, it might not look fly shop showcase quality, but it is in damn nice shape. And, no frames or spools have been unaligned, spindles bent or the reel seat knocked loose. This thing really is a ruffian. And, to top off this brutish characteristic, Ross Reels backs this product with a limited lifetime warranty.
In my opinion, this reel is a genuine piece of artwork. Holding the reel in hand and turning it 360 degrees, a fisherman will notice the desirable machining of this product. The spool's lines are cut with such details that exemplify the smooth curves and reminds me of a turbine wheel in some imaginative Dr. Seuss machine. There are no sharp points or jagged edges creating a natural, comfortable feeling on the water.
Near the top of the reel frame is a machined scene that shows the Colorado mountains near the Ross Reels factory, the state flag emblem and a meandering river.
The drag knob provides a two-tone look as it is always a brilliant copper. The reel comes in three colors: matte black, matte olive and platinum. Although I find the platinum color to be most stunning, I own the matte black to maintain stealthy approaches on small, wild trout mountain streams and spring creeks.
Finally, and most importantly, the Animas is so serviceable on the water and an absolute joy to fish. The highest evaluation of any trout reel is forgetting that it is even there because the function is flawless. And the design team at Ross has thought of everything. The reel is substantial enough to not feel petite yet never, ever cumbersome when attached to a properly balanced fly rod.
The spool has just enough lip to palm when playing a fish, if this is the preference, but Ross swears by their "improved composite drag system." This thing is continuously adjustable and fully sealed. I have landed bruiser, wild, Pennsylvania browns in the fourteen to eighteen inch class that are very, very strong trout and this drag has allowed me to protect 6X fluorocarbon tippets in heavy currents while not over-exhausting fish. The drag knob is exceptionally large and can easily be adjusted mid-fight without needing to even take a glance.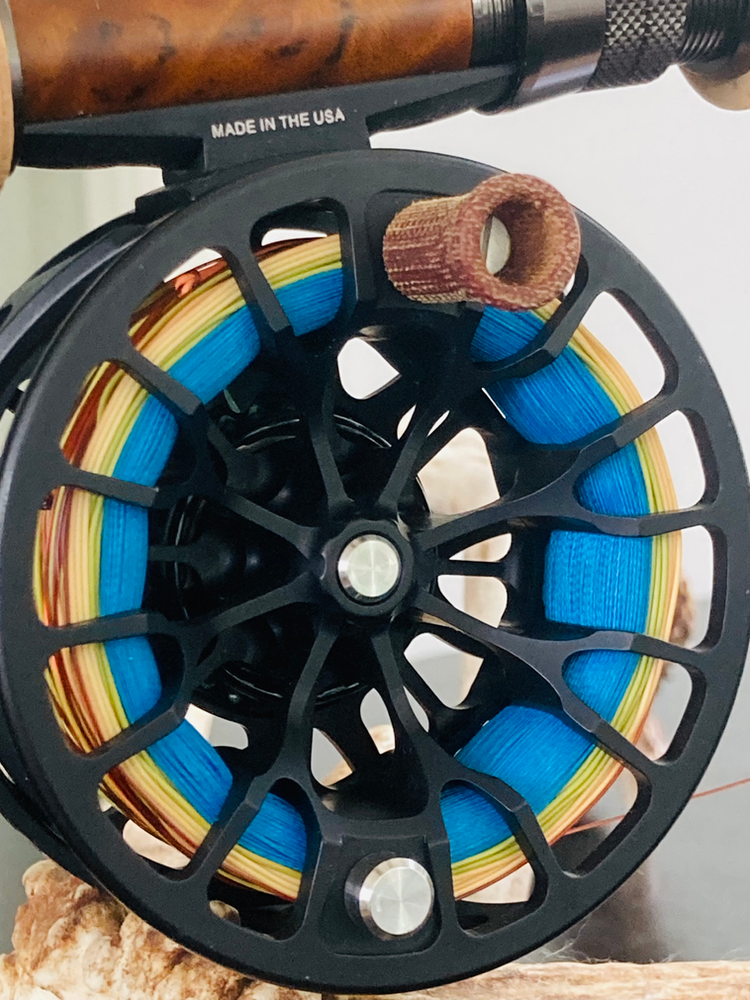 To round out on-stream performance, the reel handle is made from a canvas material that, as Ross explains, becomes tacky when wet. I can attest to this feature as I continually rinse my reel in the stream during a session. The large arbor spool picks up line quickly and keeps line and leaders from developing tight coils. This is so important for Euronymphing as a straight mono leader is necessary to establish contact, not sag, and detect subtle takes from cagey trout.
Finally, the spool is easily removed from the frame by simply pushing it outward and away from the plunger that holds it in place. There are no spool release latches or buttons.
The reel is as close to maintenance free as possible. Simply soak then rinse the frame and spool in clean, fresh water when finished fishing, wipe down with a soft cloth and allow to dry keeping the two pieces separated. That is all of the maintenance necessary.
Ross warns to never, ever lubricate any parts as this will degrade and even destroy the drag system. The Animas can be converted from right and left hand retrieves and this maneuver is described in detail in the owner's manual.
If looking for a high end, beautiful and functional fly fishing reel, look no further than the Ross Reels Animas. It will not disappoint even the most discerning fly anglers.
________________________
Have a product you'd like us to review? Send your comments and suggestions via our Contact Us page. We are also looking for high quality articles and reviews of products you would recommend to other anglers. We look forward to hearing from you!
Did This Product Review Help You?
Stay up to date with the Dark Skies Fly Fishing monthly newsletter for free and receive the latest product reviews, fly fishing news, tricks, tips, and techniques, stream reports, as well as updates on new flies added to the Online Store and exclusive discounts!
Sign Up Now